Culligan® Reverse Osmosis Drinking Water Systems
Get great tasting water right from the tap!
Drinking Water Solutions
A Culligan® Aquasential™ Reverse Osmosis Drinking Water System provides great tasting water every time. Our units use the most advanced technology available, which is able to reduce impurities and contaminants far more effectively than carbon filter pitchers and faucet filter attachments.
Never worry about chlorine, "rotten-egg smells" and foul tastes
when you rent or buy a Culligan® Aquasential™ Reverse Osmosis Drinking Water System!
These filters use a process called reverse osmosis, which pushes water through a semipermeable membrane. The membrane allows water to pass through, but not impurities or contaminants, which are then flushed down the drain.
Culligan® Aquasential™ Reverse Osmosis Drinking Water System are easy to use and maintain - simply change out the cartridges annually, or make a service appointment with your local Culligan Man™. Our compact units fit easily under a sink, and can be plumbed through your fridge, sink and even your ice maker.
Culligan now offers the ClearLink PRO™, which uses wireless technology to switch your main faucet between unfiltered and reverse osmosis filtered tap water at the touch of a button. No more drilling a hole in your countertop or losing a soap dispenser, which is required in a standard reverse osmosis system installation.
Learn more about the revolutionary ClearLink PRO™.
If space is a concern, Culligan now offers an Aquasential™
Tankless Reverse Osmosis Drinking Water System
. It provides a continuous flow of water, features a sleek, modern design and is less likely to leak than a traditional RO system.
---
Benefits of a Culligan® Aquasential™ Reverse Osmosis Drinking Water System
Provides a continuous supply of high-quality drinking water at your kitchen sink
Removes dirt, silt, clay and other sediments
Removes unpleasant tastes, including sour, metallic and soapy tastes
Removes unpleasant odors, including chlorine and "rotten-egg" smells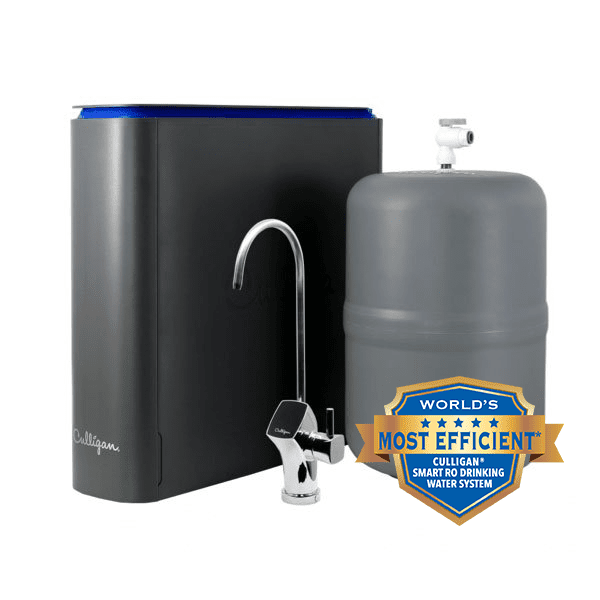 Popular Culligan® Reverse Osmosis Drinking Water Systems
Culligan Pricing
Looking for pricing? Every Culligan® Aquasential™ Reverse Osmosis Drinking Water System and installation plan is customized based on your water treatment needs. Your local Culligan Man™ will review your water concerns, the size of your household and even your home's plumbing before recommending the perfect drinking water solution for you and your budget.
*Efficiency is based on 3rd party testing to NSF standards.
Latest
Blog Posts
Salt-free water conditioning offers multiple benefits. It can be a great alternative to traditional water softening if you live in
What are carcinogenic contaminants? We classify carcinogens as any substance that could cause cancer. And there are several carcinogenic contaminants
Can't say enough about these folks! This is how business should be done. Our first contact with Tracy at the office couldn't have been better. My wife was so was impressed with how courteous and accommodating she was. She then set us up with Glen Robinson, who is a fine representative for Culligan. He met with us in our home and detailed every option for us. He was very knowledge and seemed to care more about our needs being met, rather than another sale. We finished up with the installation by Cody Myler. This guy is a total pro! Not only was he on time, but was in and out in less than an hour! These folks deserve a big pat on the back! Culligan should be proud to know that such fine people represent the brand. Thanks again for the ⭐⭐⭐⭐⭐ service!!!!!!!!

Kurtis Foland
- Culligan Customer