Culligan® Water Softeners
Stop the damaging effects of hard water today!
Soft Water Solutions
Culligan® Aquasential™ Water Softeners protect against the most common water problem in North America - hard water. Our high-quality, efficient water softeners are the best solution to the damaging, expensive effects of hard water.
Say goodbye to dry skin, spotted glassware and high water heating bills
when you rent or buy a Culligan® Aquasential™ Water Softener!
Water softening utilizes a process called "ion exchange" to remove dissolved hard water minerals such as calcium, magnesium, iron and manganese. These minerals can't be trapped by a filter, so a molecular reaction is required. Water softeners have resin beads that hold onto sodium, and as the hard water flows through the resin, the sodium is swapped for the hard water minerals. The hard water minerals are trapped in the softener and a trace amount of sodium flows out with the softened water.
Culligan® Aquasential™ Water Softeners are easy to use and maintain - there are no filters to change or flush. Simply fill with salt when needed, knowing that Culligan's advanced regeneration technology reduces overall salt use. Find out how much a Culligan® Aquasential™ Water Softener could save you with our
savings calculator
.
Culligan now offers the Culligan Connect™ app, linking your phone to data from your Culligan High-Efficiency Water Softener. This allows you to access real time information on water usage and salt levels and send you alerts for unexpected changes in flow, saving time and money.
Learn more about the groundbreaking Culligan Connect™ app.
---
Benefits of a Culligan® Aquasential™ Water Softener
Provides a continuous supply of soft water for your entire house
Reduces soap residue on hair and skin
Leaves clothes brighter and soft to the touch
Makes household cleaning easier and less expensive
Prevents hard water spots on glassware, dishes and utensils
Reduces soap scum and scaling on faucets, sinks and tubs
Reduces water heating bills
Increases the lifespan of water-using appliances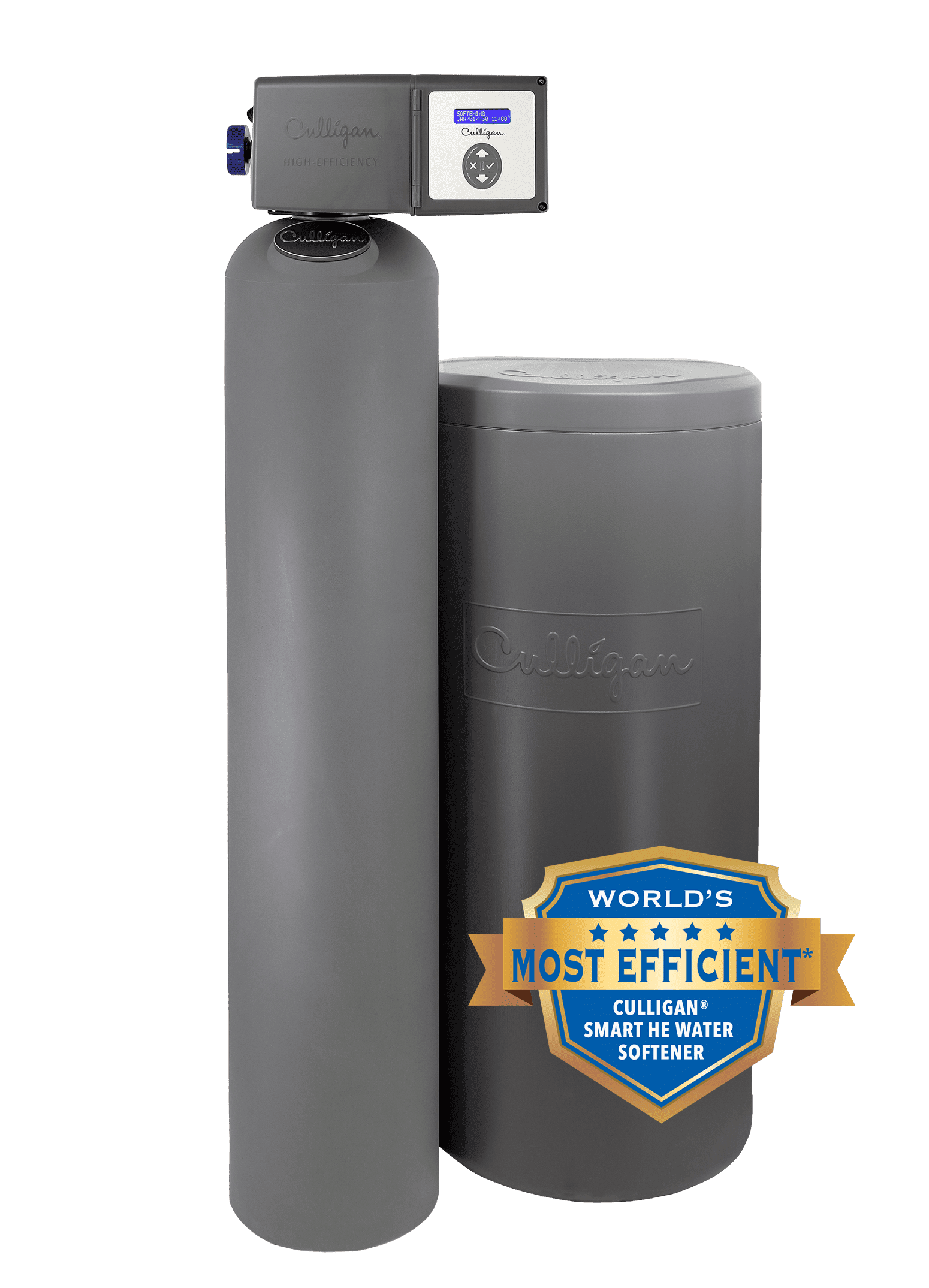 Popular Culligan® Water Softener Models
Learn more about the NEW Aquasential™ Water Softener by Culligan:
Culligan Pricing
Every Culligan® Aquasential™ Water Softener System and installation plan is customized based on your water treatment needs. Your local Culligan Man™ will review the hardness of your water, the size of your household and even your home's plumbing before recommending the perfect water softening solution for you and your budget.
*HE Softener when configured with proportional up flow brining with Aqua-Sensor®.
Latest
Blog Posts
Quality water is one call away. Get started with a free water test from your local Culligan expert. FREE WATER
While there are many ways to improve your home's drinking water, there are also options you can explore to keep
Can't say enough about these folks! This is how business should be done. Our first contact with Tracy at the office couldn't have been better. My wife was so was impressed with how courteous and accommodating she was. She then set us up with Glen Robinson, who is a fine representative for Culligan. He met with us in our home and detailed every option for us. He was very knowledge and seemed to care more about our needs being met, rather than another sale. We finished up with the installation by Cody Myler. This guy is a total pro! Not only was he on time, but was in and out in less than an hour! These folks deserve a big pat on the back! Culligan should be proud to know that such fine people represent the brand. Thanks again for the ⭐⭐⭐⭐⭐ service!!!!!!!!

Kurtis Foland
- Culligan Customer